When Holy Communion Isn't So Holy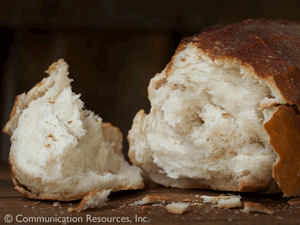 One Sunday recently, a youngish man, thirtysomething, father of two girls, asked me if the communion bread had any nuts. "We have some nuts in the congregation," I said, "but not in the bread." He smiled graciously at this lame attempt at humor. I went on to say that I would confirm this and would thereafter post something to that effect in the worship guide.
This led to a discussion about glutinous bread. A woman in our congregation a year ago or so wanted bread absent the gluten. So every Sunday (we observe Holy Communion every Sunday), she brought a little baggie filled with morsels of gluten-free bread.
I am sympathetic to this problem because my dear Jeanie is also gluten intolerant — although not to the degree of many others. Jeanie is able to take a tidbit of the body of our Lord and Savior Jesus Christ with no fear that by partaking she will face an unpleasant medical reaction. Others, however, are more sensitive than she. So, it is an issue.
The discussion with this fellow after church reminded me of our experience last summer. We were in Scotland, and one Sunday we stopped in at St. Giles' Cathedral in Edinburgh where Knox used to thunder imprecations and admonitions. This beautiful cathedral is the mothership for Scots Presbyterians and we were fed, sustained and encouraged by the Word that was shared that morning.
During Holy Communion at St. Giles, we were instructed to form a large circle (we were at an early service attended by only a few, very pious souls such as ourselves). Then, as we stood in the circle, a loaf of bread was passed around, each person grabbing a chunk and passing it on to the next person.
This was a bit odd because it was difficult to get just the right size for communion-taking-and-chewing purposes. Either what you nibbed off was just a wee bit, or you got a big glob of it — like the cotton you pull out of a bottle of Tylenol. So you start chewing, hoping you can get the transubstantiated morsel swallowed before the cup reaches you.
Then a silver chalice the size of the Stanley Cup was handed to me. It was huge! Two hands definitely required. It arrived without an accompanying serviette or even a paper towel — which I thought was quite un-Presbyterian. There was nothing. What if the person beside me has a canker sore or something worse? And then there's the backwash and saliva. It was sort of gross. And worse, I realized later that I hadn't paused to thank Jesus for the Cross and Sacrifice — not even once. I was too busy trying to tug some bread out of a loaf and too worried about communicable diseases to meditate on anything of a sublime nature.
Maybe it's time to establish a Communion Protection Policy that ensures communion safety for all penitents.
A week later, we were elsewhere in Scotland and visited a certain ancient and venerable abbey. What an opportunity to step into the presence of God — aided by its storied history, the stonework, cloisters and arched doorways and heavy doors with creaky wrought-iron hinges!
Granted, this little abbey was no cathedral. No pipe organ, no stained glass windows, no incense and no priest. But still, we sat in the choir (the congregation was small this Sunday), and expectations were high.
Gradually those expectations lowered and then disappeared altogether like the last gasp of a bagpipe. There was no prelude and no quietness. Tourists and the local community trooped in gabbing and yakking. The candles were all fake! I was shocked, but figured that the local fire department must be concerned about this stone church catching fire.
Holy Communion was a disjointed and distracting affair. It began with an announcement about different "stations" where folks could receive communion. This was especially important because, we were reminded, if you were "gluten-free" you should approach the good folks over here — not there. And then if you were a teetotaler or a friend of Bill's, and you needed nonalcoholic grape juice instead of the 12-year-old port, then please go to that station over there! Directions as to how and when to line up then followed. Good Lord!
There must be another way.
I like the way we experienced Holy Communion in other churches last summer. Directions or information were printed in small type in "The Guide to Morning Worship." Visitors attending for the first time followed the Guide because without it they'd be lost. So they read how Holy Communion works. They were encouraged to ask the pastor or the server a question if they were not sure what to do next. The chalices for wine and juice were clearly marked. Gluten-free bread was usually not an option, but sometimes gluten-free wafers were on the plate (noted in fine-print instructions). Worshipers could partake by intinction, or take the Common Cup which was held by a designated person at the head of the center aisle.
In one case, the pastor knew the liturgies from memory and didn't need to read from a book, adjust his glasses or thumb through pages. The Table was a visual sight to behold — because Mass or Holy Communion is all about the sensual, is it not? The brilliant brass goblet, a fresh fat baguette, stoneware chalices, white linens and the brilliant colors of the liturgical season.
But in some traditions, Holy Communion is observed much differently. I remember how my father, a preacher as I was growing up in western Canada, presided at the "Table." We only had communion once a month and it was never Holy Communion — just communion. Holy Communion was a Sacrament; communion (lower case c) was an Ordinance. Sacraments required weekly observance; Ordinances were only monthly affairs.
There was no liturgy. I don't think Dad knew what a liturgy was. He always stood beside the table and he had a communion "meditation" in which he explained some aspect of Christ's death on the cross.
The elements were also distributed to the people in trays with those little cups. Sometimes we were allowed to drain the cups — and Mom only let us take one each — immediately. Other times, however, we had to hold those tiny Alice in Wonderland, make-believe-tea-party cups until everyone had theirs. Then Dad would say solemnly, "Let us partake together," and everyone — in a choreography worthy of Shen Wei — raised a glass to Jesus and drank the contents. The cups were then dropped into rubber-lined, three-holed receptacles placed at intervals along the backs of the pews. This created a soft, clunking sound to which I always looked forward. Curious children like me learned how to pop out those rubber linings and play with them during the boring bits in church.
Perhaps I was distracted at the abbey because I was a first-timer. It's quite possible that the regulars did not find all the oral instructions disturbing at all, but instead, spent that time in a devotional and prayerful pose until it was over.
First-time visitors are no doubt going to be distracted during Holy Communion no matter what — although perhaps those churches with a strong liturgical tradition are better suited for the visitor from halfway around the world than those traditions which, well, don't have a liturgical tradition. The liturgy is the liturgy. A Wendy's cheeseburger in Fort Worth, Texas, tastes the same as one in Istanbul, right?
At the "last supper," Jesus asked his disciples to remember him. I guess there are many ways to do that. But I'm afraid that sometimes, given the way Holy Communion is observed, the observance itself seems to get in the way of the "remembering."
Perhaps we need to do a better job of "remembering" when we celebrate Communion. Would it be possible to create an environment designed to remember? Might we cut out, remove and mute distractions that work against the opportunity to experience the Divine? Would actions like this help us sense the sanctity of the Sacrament?
This is, after all, a sacrament, and too often there's nothing sacra about it. When we are able successfully to remember, the Holy part of Communion will reappear.

Looking for More?
Imagine having fresh help in preparing your sermons right at your fingertips, especially during those weeks when your words and ideas are not flowing easily. Homiletics Online won't write the sermon for you but once you've used this treasury of solid content, you'll wonder how you ever got along without it. 
We are always looking for talented and passionate writers who want to share their ideas on preaching the Gospel. If that sounds like you, then please use the button to submit a guest post.