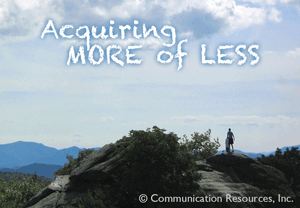 The 96-mile trek of the West Highland Way ends at a pedestrian shopping plaza in the city of Fort William in northern Scotland. After six days of walking 15-20 miles per day up and down Munros, traversing moorlands, viewing mystical and jaw-dropping scenery and reading place names that seemed straight out of a Tolkien novel, the trail's end has an ignominious sort of "exit through the gift shop" quality. Nonetheless, my wife and I welcomed the opportunity to celebrate our accomplishment with a healthy plate of fish and chips, and the inevitable picture with the footsore hiker statue that marks the trail's terminus.
For quite some time I had been intrigued by the prospect of taking a really long walk like this. As an infantry officer in my pre-ministry life, walking was a utilitarian chore that meant staggering through the bush with a 50-pound combat load in your rucksack. After a few years out of that world, however, I was intrigued by the prospect of walking as a spiritual discipline that was more about the journey than the destination. I was especially interested in the stories of those who had done long-distance hikes. Bill Bryson's book A Walk in the Woods, the story of his trek on the Appalachian Trail, was a favorite of mine not only because it was informative, but also because it's hilarious. After all, one must have a sense of humor and a touch of derangement to subject one's feet to 15-20 miles of walking per day.
I used John Bunyan's The Pilgrim's Progress as a kind of model for this kind of trek — more of a pilgrimage than simply pounding out mileage. For thousands of years, people have taken such long walks for their spiritual health, especially in Britain and Europe, where medieval pilgrims arranged long treks to visit holy sites containing the relics of saints. The West Highland Way grabbed my attention as a similar kind of route that would take me on a pilgrimage into holy and mystical places in the land of my ancestry, discovering the relics of rock and loch that somehow helped me remember who I am.
When I booked the trip, I knew I didn't want to haul a big load with me, nor did I want to sleep on the ground. A heavy pack and a restless night of hearing rain pelting the roof of a tent holds even less appeal now than it did in my infantry days when a tent would have actually been a luxury. So, I arranged to have our luggage transferred to a pre-booked B&B at the end of each day's hike where a hot shower, a soft bed and a filling meal awaited us. Okay, maybe you call it "glamping," but I call it "smart." We passed a lot of weary backpackers slogging up a steep track who asked us why we were only carrying daypacks, and when told about our plan, they invariably looked at each other and said, "We should have done that!" A small daypack means that you only carry what you need for the day, which frees you to focus on other things.
For example, a light pack enabled us to look up at the world around us rather than being bent over under a load and focusing downward on each step. Carrying less also allowed us to have some great conversations along the way, not only with each other but with some new friends we made. We spent our fourth day walking with a high school history teacher from Germany, comparing notes on life in our respective countries and hearing about his life and family. On a long, 21-mile day, we fell in with a pair of brothers from London who were out hiking the Way together. We also kept tabs on two Scottish ladies who were nursing some blisters and another young German couple with whom we leapfrogged trail sections the first three days. We talked about others we had seen on the trail — like the guy we called "Hooper" because he had a large hoop-tent strapped to his pack that seemed to snag on every tree. I hope he made it to the end!
There were many other lessons gleaned on the trail, but the one that sticks out to me is summed up in a quotation from Robert Moor in his book On Trails: An Exploration which I perused in a lovely little bookshop in Fort William after finishing the hike: "In walking, we acquire more of less."
The trail taught me the value of acquiring more with less — more attention with less hurry; more of the value of the journey and less about reaching the destination; more about simplicity and walking lightly than acquiring more and being efficient and expedient; more about cultivating relationships than checking off waypoints.
Moving forward step by step every day changed the rhythm of life for me and I believe it has also helped to change the way I lead the church. I've often been so concerned about getting a congregation to a certain place, a certain stature, a certain number or a certain level that I've had the tendency to carry way more of a load than I needed. I've burdened others with more than they can bear as well. To walk forward with our people in ministry, we need to remind one another to carry only what we need so that we can enjoy the journey and make it there together.
Jesus invited his disciples to share their loads with him. "Come to me, all you who are carrying heavy burdens, and I will give you rest" (Matthew 11:28). That's an invitation to live more simply, both personally and professionally.
I hope you will get a chance to get out and do some walking this summer if you're able. Think of it as a metaphor for your leadership: an opportunity to develop the discipline of acquiring more of less.

Looking for More?
Imagine having fresh help in preparing your sermons right at your fingertips, especially during those weeks when your words and ideas are not flowing easily. Homiletics Online won't write the sermon for you but once you've used this treasury of solid content, you'll wonder how you ever got along without it. 
We are always looking for talented and passionate writers who want to share their ideas on preaching the Gospel. If that sounds like you, then please use the button to submit a guest post.