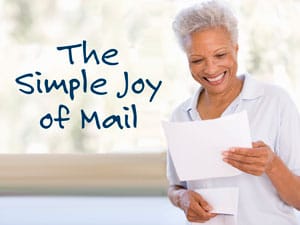 Have you ever noticed the face of someone when they receive an unexpected piece of mail?  
For many of our elderly or shut-in members, checking the mail is part of the simple routine of the day. Most of the time, this results in sorting through all the advertisements and requests for money, which is then tossed in the trash. But when there is a piece of mail specifically for them, it immediately puts a smile on their face. 
Even the smallest note is a reassurance that someone cares about them.
Ideas of types of m
ail
to send
.
Personal letters are becoming a lost art, but still are the most powerful way to restore human connection. Unlike your church newsletter (which is another great way to keep members up to date with what is happening in the church), personalized messages speak directly to them. There is something empowering about sitting down, putting on your reading glasses, and slowly reading through a carefully penned note.  
Many Christian bookstores and other stores have a wonderful variety of Scripture cards. These cards often have beautiful imagery and Scripture that can be kept or placed on a desk for inspiration and encouragement.  
Postcards are another fun and relatively easy way to send mail. Engage with your Children's Ministry Leader or children's Sunday school teachers to have children decorate blank postcards you can purchase from any office supply store. Have them color the front of these postcards and sign their own note on the back. Kids are so creative and say the sweetest things, they are sure to come up with something to bring a smile to any member's face.  
But with life today being so busy and constantly changing, it's hard sometimes to find the time to sit down and craft a letter or note. That is where ministries, such as HomeTouch Ministry, help. They provide a devotional and activity page to send as care packages every week!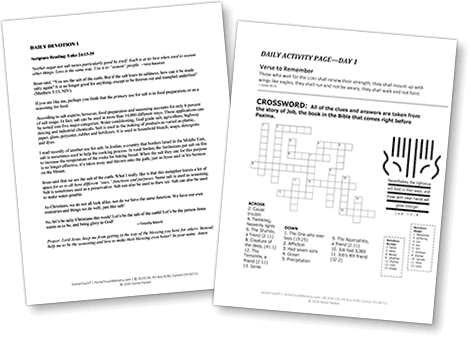 Click here to download one of their FREE Samples.
They are wonderful to send as–is or with a short personal note. They even allow you to edit the devotional or activity page in a Word doc if you want to add your church logo or own words of encouragement.  
Children love
m
ail
too!
 Just like many elderly and shut-in members, children love getting mail addressed to them. Parents love to watch their children's eyes sparkle with excitement as they open their treasured pieces. 
Personal notes, cards and letters are just as powerful to kids of all ages. They help practice reading skills and are something physical they can store to look at and read again and again — almost like their favorite book! 
Again, when time does not permit you to spend time handwriting notes, consider resources such as Children's Worship Bulletins. Their worship bulletins work great for care packages for kids.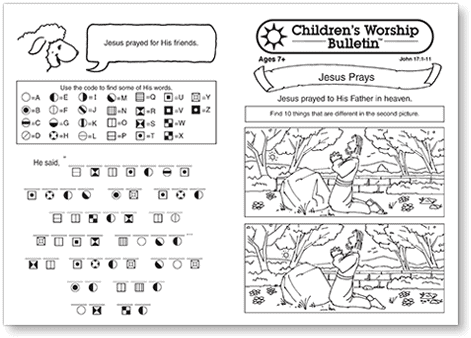 Click here to download one of their FREE Samples.
With two age groups available and the option to download any bulletin from their library (not just a small set), you can find the topic or Scripture of your choice to send encouragement.  
Send some love today.
By sending mail to your homebound, elderly members and children in your congregation, you are sending them constant reassurance that they are remembered and loved. Many will cherish these letters, cards and care packages for many months to come.  
HomeTouch  is a ministry resource that provides a weekly Christian devotional letter and activities that help your senior adults or other homebound members feel remembered and appreciated. Visit www.HomeTouchMinistry.com to learn more. 
Children's Worship Bulletins  provides over 1,500 engaging, Bible-based worksheets to teach children the Bible. Since they teach basic Scripture knowledge, not doctrine, they're perfect for all Christian churches. Visit www.ChildrensBulletins.com to learn more. 

Looking for More?
Imagine having fresh help in preparing your sermons right at your fingertips, especially during those weeks when your words and ideas are not flowing easily. Homiletics Online won't write the sermon for you but once you've used this treasury of solid content, you'll wonder how you ever got along without it. 
We are always looking for talented and passionate writers who want to share their ideas on preaching the Gospel. If that sounds like you, then please use the button to submit a guest post.